WE WELCOME YOU TO ATHENS AND WE HOPE THAT AFTER YOUR STAY HERE,
YOU WILL BE FILLED WITH GREAT MEMORIES. HERE FOLLOWS SOME GENERAL INFORMATION TO HELP YOU BECOME FAMILIAR WITH
THE CITY AND ENJOY YOUR VACATION TO THE FULLEST!
The capital of Greece has approximately 5 million inhabitants, including the population of Piraeus port, which is the 3rd largest port in the Mediterranean Sea. The whole population of Greece is estimated to be around 11 million
Tap water is drinkable in Athens and most of mainland Greece, but you can buy bottled water from all kiosks, mini markets and of course the hotel. Avoid drinking tap water in the islands.
Electrical Current Greece
The voltage in hotels is 220V: be careful to not use electrical appliances without checking you have a suitable adaptor

The local currency is the Euro. For your own convenience you can exchange money at the hotel's reception or at any bank; however, we strongly advise you to find exchange offices (located throughout the city), to obtain better rates and no commission charge
See below our indication of the commercial areas in downtown Athens: where cars have been blocked and pedestrians now walk safely and buy eternally.
DAYS OF OPERATION
Mondays / Wednesdays / Saturdays: 09:00 – 15:00
Tuesdays / Thursdays / Fridays:09:00 – 14:30 & 17h30 – 21:00
Department Stores: 09:00 – 21:00 (except Sundays)
Ermou Street (Syntagma Square – the long pedestrian road), Kolonaki (the beautiful upper class area), Monastiraki (the flea market) and the famous Plaka (the old part of town below the Acropolis with a lots of souvenir shops, restaurants and outdoor cafes). It is worth mentioning the shops in
Plaka and Monastiraki district remain open until late hours of the night during the summer period. Things to buy: Ceramics, brassware, icons, furs, leather goods, jewelry, clothes and footwear.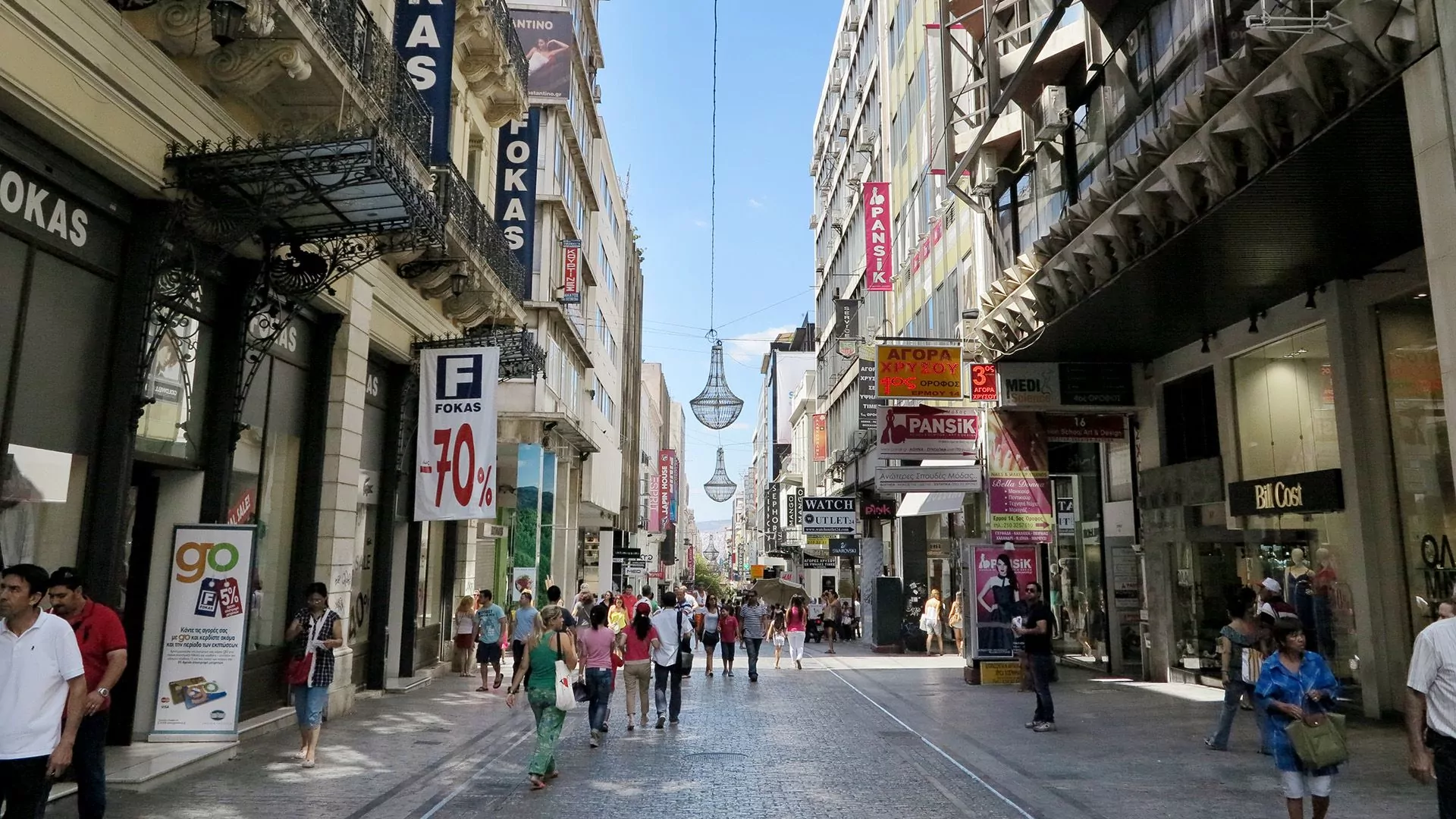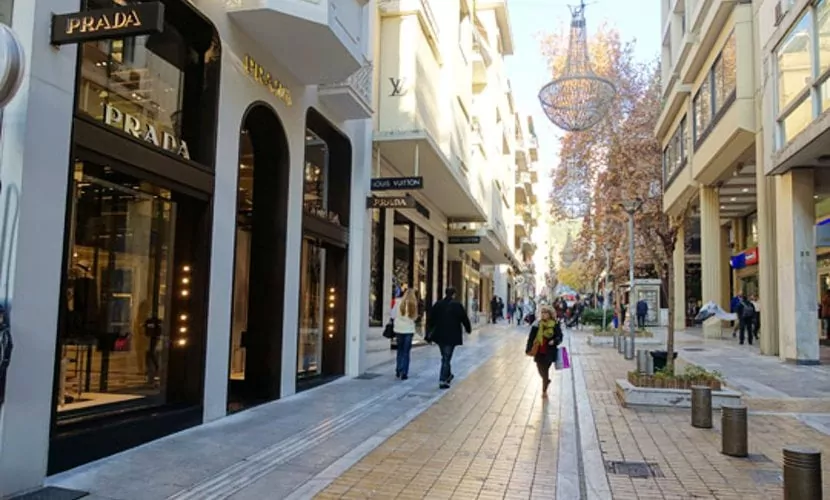 For lovers of luxury
Those looking for luxury in the heart of the city, Kolonaki is the ideal choice for shopping. The main streets of Skoufas, Patriarchou Joachim and Tsakalov are full of shops selling branded products of high quality and aesthetics. Once you've finished shopping, relax while enjoying your coffee or a light meal at the area's popular cafes and restaurants.
ATHENS TRANSPORTATION TAXIS, METRO & TRAM
All taxis in Athens are yellow and they work on meter. You can hail a taxi in the street or book one, by phoning a local taxi company, for an additional charge.
Our Metro (Subway) covers the city with 3 lines (Blue = Airport line I Red = City Center I Green = Piraeus Port).
Trains run from 05h30 AM to 12h00 PM (except Fridays & Saturdays where services ends at 02h00 AM).
The city's newest transportation system is the Tram: it connects the city center to suburbs located on the coast. Perfect for a break if you fancy nice beaches and cool cafes but beware: it gets heavily crowded during the summer months.
Price for public transport tickets start at at 1.40 Euro per person (single journey).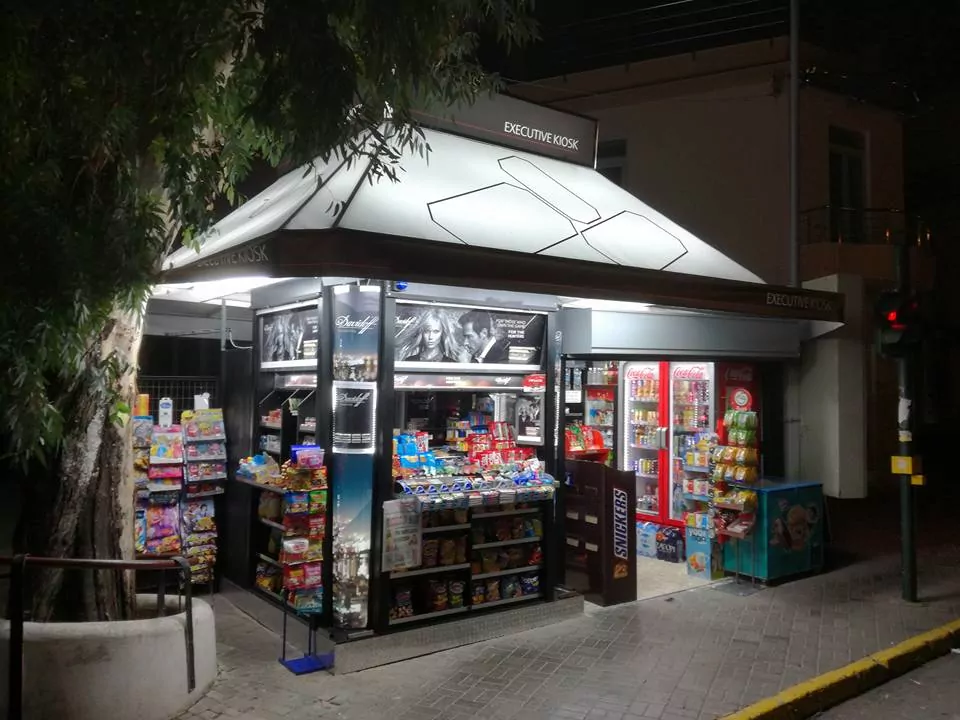 KIOSKS (PERIPTERO)
Kiosks are situated almost everywhere in Athens, especially on the sidewalks of the main avenues and on the squares.
They sell just about everything from newspapers, magazines and postcards to soft drinks, snacks, water and beer.
Usually open from early morning until late at night. You can also find there phone cards for in­ternational calls.
There is a vast selection of land tours and shore excursions you can take part on, to see the most important sights of Ancient Greece, dated back to 2500-3000 BC. For any further information and participation in these tours, please, do not hesitate to contact us.
Our expert guides will give you an excellent tour of the sight as well as the background history of the area.
Greece is a very safe country if compared to other European countries or the USA.
There are no ghettos or gangs here; however, you should be wary of your belongings when in crowded places or when inside public transport (pick pockets).
PS: Avoid walking during late hours of the night near the outskirts of Omonia's Square.
Most Greeks speak English and another language (usually French, Italian or German).
This basically means you don't need to stress out and learn the language while you're here.
We're also renown worldwide to have very hospitable and friendly people too… which will be more than glad to step out of their way to help you.
If you're a foodie or a food lover: check out some great suggestions on the next page.
If you're a vegetarian, oh well, we'll still welcome you in the country but beware Greeks are meat maniacs! Nice taverns, restaurants, trendy spots, cocktail bars and beer houses are all spread out across the city: from the city center to the coastal areas.
01) To wear sunglasses so you can look cool.
02) Drink plenty of water so you don't get dehydrated.
03) Use sunscreen lotion during our hot summer days.
04) Try Greek coffee.
05) See the change of guards.
06) Act like a local.
07) Taste our wines.
08) Olive oil goes everywhere.
09) Not everyone's name is Nikos.
10) Relax! It's your holiday!
BYZANTINE CHURCHES ATHENS
Kapnikarea on Ermou Str. is a fine example of the 13th century
Formerly the King's Royal Gardens,.
are next to the Greek Parliament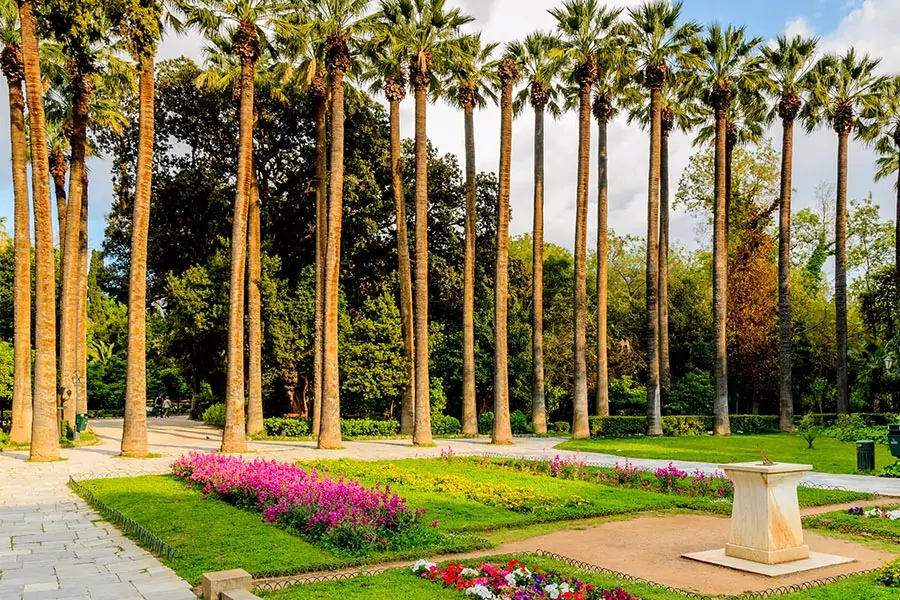 In front of the Greek Parliament wearing their traditional clothing.
The highest point in Athens with a spectacular view.
To name a few: National Archaeological Museum, Benaki Museum, Museum of Cycladic and
Ancient Greek Art, New Acropolis Museum, Byzantine Museum, National Art Gallery.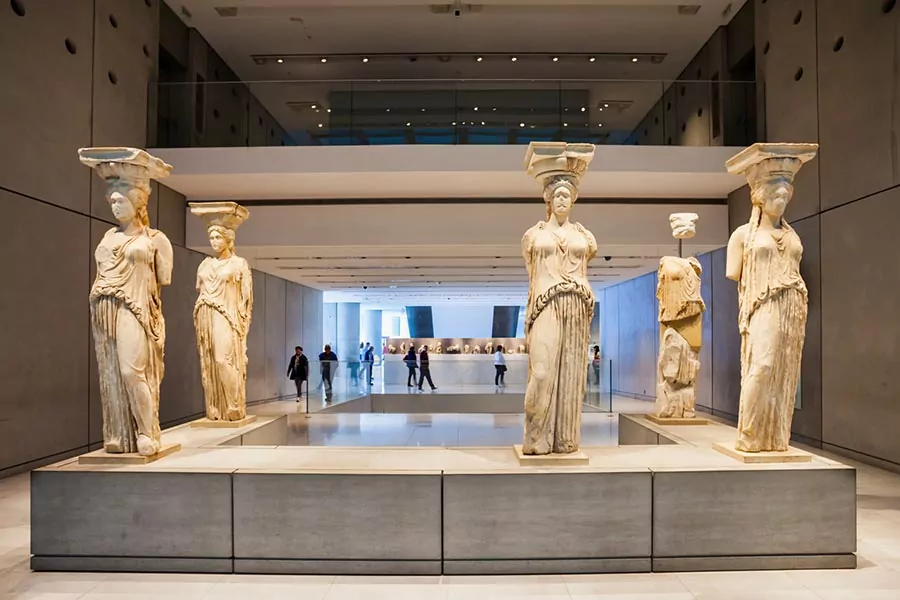 | | |
| --- | --- |
| YES | NEE |
| NO | OCHI |
| DO YOU SPEAK ENGLISH? | MILATE ANGLIKA? |
| I DON'T SPEAK GREEK | DEN MILAO ELINIKA |
| I DON'T UNDERESTAND | DEN KATALAVENO |
| MRS./MRS | KEERIE/ KEERIA |
| PLEASE | PARAKALO |
| THANK YOU | EFHARISTO |
| WELCOME | TIPOTA/PARAKALO |
| SORRY | SIXNOMI |
| GOOD MORNING | KALIMERA |
| GOOD AFTERNOON | KALISPERA |
| GOOD NIGHT | KALINIHTA |
| HELLO/GOODBYE | YIASAS |
| THERE IS/THERE ISN'T | IPARHI / DEN IPARHI |
| PLEASURE TO MEET YOU | HARICA |
| I WANT TO GO | THELO NA PAO |
| I DON'T KNOW | DEN KSERO |
| I LOVE YOU | SE AGAPO |
| I LIKE IT/I DON'T LIKE IT | ME ARESI/DEN MEARESI |
| MY NAME IS | ME LENE |
DIRECTIONS & USEFUL WORDS
| | |
| --- | --- |
| HERE/THERE | EDO / EKEE |
| EXIT/ENTRANCE | EXODOS/EESODOS |
| NEARBY/FAR | CONTA/MACRIA |
| LEFT/RIGHT | ARISTERA/DEXIA |
| BIG/SMALL | MEGALO / MICRO |
| BEHIND/AHEAD | PISO/BROSTA |
| GOOD/BAD | KALA/ASHIMA |
| WITH/WITHOUT | ME/HORIS |
| EXPENSIVE/CHEAP | ACRIVO/FTINO |
| LOT/LITTLE/ENOUGH | POLY/LIGO/FTHTANI |
| MORE/LESS | PIO POLY/LIGOTERO |
| BEAUTIFUL/UGLY | OMORFO/ASGIMO |
| STREET/SQUARE | ODOS/PLATIA |
| TAXI/BUS/VEHICLE | TAXI/LEOFORIO/AFTOKINITO |
| AIRPORT/AIRPLANE | AERODROMIO/AEROPLANO |
| SHIP/PORT | PLIO/LIMANI |
| HOSPITAL/W.C. | NOSOKOMIO/TOUALETA |
| HELP | VOITHIA |
| POLICE/STOLEN | ASTINOMiA / CLEPSIMO |
| LEAVE | FIGE |
| TELEPHONE CARD | TEELEKARTA |
| | |
| --- | --- |
| WEEK/DAY/MONTH | EVDOMADA/MERA/MEENA |
| HOUR/MINUTE | ORA/LEPTO |
| MORNING/AFTERNOON | PROI/APOGUEVMA |
| YESTERDAY/TODAY/TOMORROW | EHTES/SEEMERA/AVRIO |
| EARLY/LATE | NORIS/ARGÄ |
| MONDAY/TUESDAY | DEVTERA / TREETI |
| WEDNESDAY/THURSDAY | TETARTI/PEMTI |
| FRIDAY/SATURDAY | PARASKEVI/SAVATO |
| SUNDAY | KIRIAKI |
|   |   |
| JANUARY/FEBRUARY | JANOUARIO/FLEVARI |
| MARCH/APRIL | MARTIO/APRILIO |
| MAY/JUNE | MAIO/YUNIOU |
| JULY/AUGUST | YULIO/AVGOUSTO |
| SEPTEMBER/OCTOBER | SEPTEMVRIO/OCTOMVRIO |
| NOVEMBER/DECEMBER | NOEMVRIO/DEKEMVRIO |
| CHRISTMAS/SUMMER | CRISTIOUYENA/KALOKAIRI |
| AUTUMN | FTHINOPORO |
| WINTER | CHEIMONAS |
| SPRING | ANOIKSI |
| Easter | Páscha |
| | |
| --- | --- |
| THE MENU PLEASE | TO CATALOGO SAS PARAKALO  |
| I WOULD LIKE TO EAT/DRINK | THELO NA FAO/NA PIO |
| WHAT DO YOU HAVE? | TI ÉHETE/ÉHETE ? |
| THE BILL | TO LOGARIASMO |
| PLATE/GLASS/NAPKIN | PIATO / POTEERI / PETSETA |
| KNIFE/FORK | MAHÉRI/PIRUNI |
| SPOON/BREAD | CUTÁLI/PSOMÍ |
| APERITIVE/SALAD | OREKTIKÁ / SALÁTA |
| ICE CREAM/YOGHURT/FRUIT | PAGOTÓ/YAOURTI/FROUTA |
| MILK / TEA/CAMOMILLE | GALA / TSÁI / CHAMOMÍLI |
| COFFEE/CHEESE | CAFÉS/TEERÍ |
| SALT/PEPPER | ALÁTI/PIPÉRI |
| OREGANO/PEPPERS | RÍGANI / PIPERIA |
| RED MULLET / ANCHOVY | BARBOENIA/GAVROS |
| SWORDFISH/SEA BREAM | KSIFIAS / TSIPOURA |
| PRAWNS/SQUID | GARIDES / KALAMARAKIA |
| OCTOPUS/LOBSTER | CHTAPODI/ASTAKOS |
| CHOPS/RIBS | BRISOLA / PAIDAKIA |
| PORK/VEAL | HIRINO/MOSHARI |
| LAMB/CHICKEN | ARNAKI/KOTOPOULO |
| MEAT/FISH | KREAS/PSARI |
| ROASTED/COOKED | PSITO/VRASTO |
| BARBECUED/FRIED | STA KARVUNA/TIGANITO |
| ONION/GARLIC/CUCUMBER | KREMIDI/SKORDO/AGGOURI |
| VEGETABLES/BEANS | LAHANIKA / FASSOLAKIA |
| MELON/WATERMELON | PEPONI / KARPUSI |
| | |
| --- | --- |
| WHAT IS YOUR NAME? | POS SE LÉNE? |
| WHAT? | Tl? |
| HOW ARE YOU? | Tl KANEIS? |
| WHAT TIME IS IT? | Tl ORA INE? |
| HOW CAN I GET THERE? | POS BORO NA PAO? |
| WHY? | GIATÍ? |
| HOW MUCH? | POSO? |
| WHEN? | PÓTE? |
| WHEN DOES IT LEAVE? | POTE FEVGEI? |
| WHEN DOES IT ARRIVE? | POTE FTANI? |
| HOW MUCH IS IT? | POSO KANEI? |
| HOW LONG DOES IT TAKE? | POSI ORA KANEI? |
| WHERE IS IT? | POU INE? |
| WHERE ARE WE GOING? | POU PAME? |
| | |
| --- | --- |
| 0 -MIDEN | 20-EEKOSI |
| 1 -ENA | 21-EEKOSI+ENA |
| 2-DYO | 22-EEKOSI+DYO |
| 3 -TRIA | 23-EEKOSI+TRIA |
| 4 -TESSERA | 24-EEKOSI+TESSERA |
| 5 -PENTE | 25-EEKOSI+PENTE |
| 6 -EKSI | 26-EEKOSI+EKSI |
| 7 -EPTA | 27-EEKOSI+EPTA |
| 8 -OHTO | 28- EEKOSI+OHTO |
| 9- ENNEA | 29-EEKOSI+ENNEA |
| 10-DEKA | 30-TRIANTA |
| 11-ENDEKA | 30-TRIANTA+ |
| 12-DODEKA | 40-SARANTA+ |
| 13-DECA+TRÍA | 50-PENINTA+ |
| 14-DECA+TESSERA | 60-EKSINTA+ |
| 15-DECA+PENTE | 70-EBDOMINTA+ |
| 16-DECA+EKSI | 80-OHDONTA+ |
| 17-DECA+EPTA | 90-ENENINTA+ |
| 18-DECA+OHTO | 90-ENENINTA+ |
| 19-DECA+ENNEA | 100-EKATO+ |
FREE ACTIVITIES IN ATHENS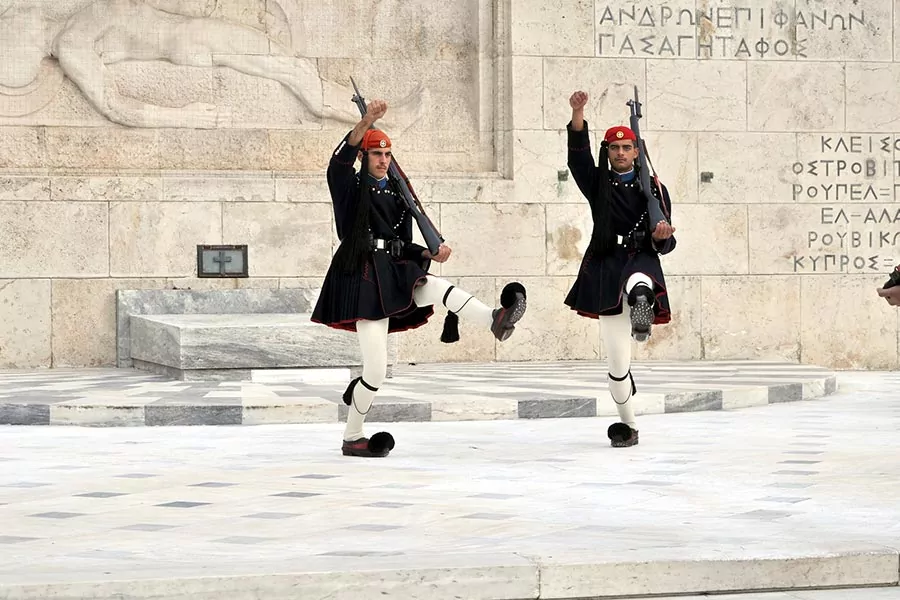 In front of the Parliament building you'll see the traditional Evzones (guards) by their
short kilts and pom-pom shoes based on the attire worn by the klephts (the mountain
fighters during the War of Independence). They stand guard at the Tomb of the Un-
known Soldier and enact a high-kicking ritual when they change every 1 hour on the
hour. On Sunday at 11 am, a whole platoon marches down Leoforos Vasilissis Sofias
to the tomb, accompanied by a band.
National Garden of Athens. Smack in the middle of the city center. Simply delightful and a shady refuge during
summer. They sit just behind the Parliament (though you can enter from all sides)
and were formerly the royal gardens designed by Queen Amalia. Bring breadcrumbs
for the ducks at the pond or look for the turtles in the small marble fountain in the
adjacent Zappeio Gardens!
Uber-famous ancient sights that can be seen for free! Of course you can always
gaze at the Acropolis from all over town (without a ticket). Hadrian's Arch, Temple
of Olympian Zeus and the Panathenaic Stadium are also easy to observe as you
wander the streets. Lesser-known ruins literally emerge from the landscape across
Athens while all over town, Byzantine churches abound, giving a glimpse into the
heart of long-gone Byzantium. Check out excavated findings during the metro build
at Syntagma, Acropolis & Monastiraki metro stations!
Start with the old Turkish quarter in Plaka. Virtually all that existed when Athens
became the capital of Greece, its narrow streets nestle into the northeastern slope
of the Acropolis. It is still the most character-filled part of Athens. Next, find Dionysiou
Areopagitou which partially rings the Acropolis (near the Acropolis Museum . Follow
it by Filopappou Hill (also worth exploring) as it loops into Thissio, with many
Acropolis-facing cafes, before letting you out near the Monastirak area.
Benaki Museum's
Top-notch main building (not the annexes), one of the country's best cultural museums, is free on Thursdays. But there's lots more to see – and the following museums are always free:
Kanellopoulos Museum
A wonderful cultural museum in a historic mansion in the foothills of Plaka.
Epigraphical Museum
The most significant collection of Greek inscriptions on a veritable library of stone tablets.
Centre of Folk Art & Tradition
A stunning Plaka mansion with interesting periodic exhibitions.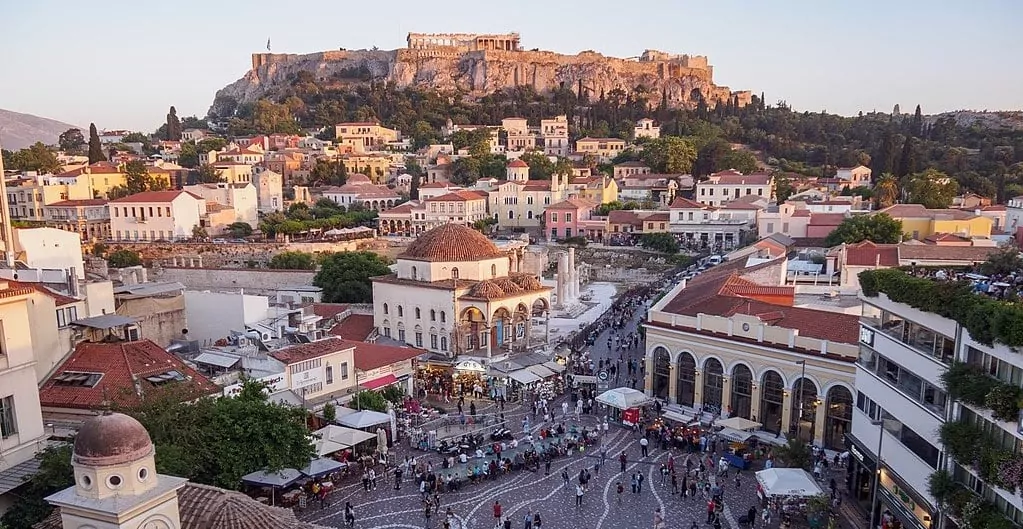 MONASTIRAKI'S FLEA MARKET
Handcrafted goods, fresh fruits and stacks of soccer jerseys and jewelry dominate the stalls of Monastiraki's bustling flea market and if that's your thing… great for good-old bargains!
For a great, free workout and astounding views, climb one of Athens' central hills!
Filopappou Hill – along with the adjacent Hills of the Pnyx and Nymphs – where
Theseus and the Amazons battled. Athens' other great central hill, Lykavittos means
'Hill of Wolves', and indeed in ancient times it was inhabited by wolves. Catch the
funicular railway from the top of Ploutarhou Street (Kolonaki) to reach the top of
Mount Lycabettus.
Complex in the bay of Faliro. A destination for education, art and multifunctional
recreation and environmentally sustainable. It comprises the Stavros Niarchos Park
and the new facilities of the National Library of Greece (NLG) and the National
Opera of Greece (GNO). Designed to be opened and accessible to all, it enriches the
lives of the country's residents and aims to attract visitors from all over the world.
Located just 6 km from the center of Athens, the marina of Flisvos offers easy access to many cultural and entertainment attractions available in the rejuve­nated Olympic city. Take advantage of a variety of recreation and relaxation opportunities, while sports enthusiasts can enjoy activities such as jogging, walking and cycling in a pleasant and peaceful en­vironment. Several options of restaurants and cafes can be found here.
In Athens some beaches are privatized and charge an admission fee but free beaches, such as Kavouri and Vouliagmeni, offer a getaway from the hustle and bustle of Athens.
INTRODUCTION TO GREEK CUISINE
Greek cooking offers an incredibly rich and diverse array of foods and beverages
that are the culmination of literally thousands of years of living, cooking, and eating.
While each Greek meal is fresh and inviting, it is also a trip back through Greece's
history. The Greek diet is regarded as one of the healthiest in the world because it's
based largely around fruit and vegetables, whole grains, fish, and a small amount of
cheese and yoghurt.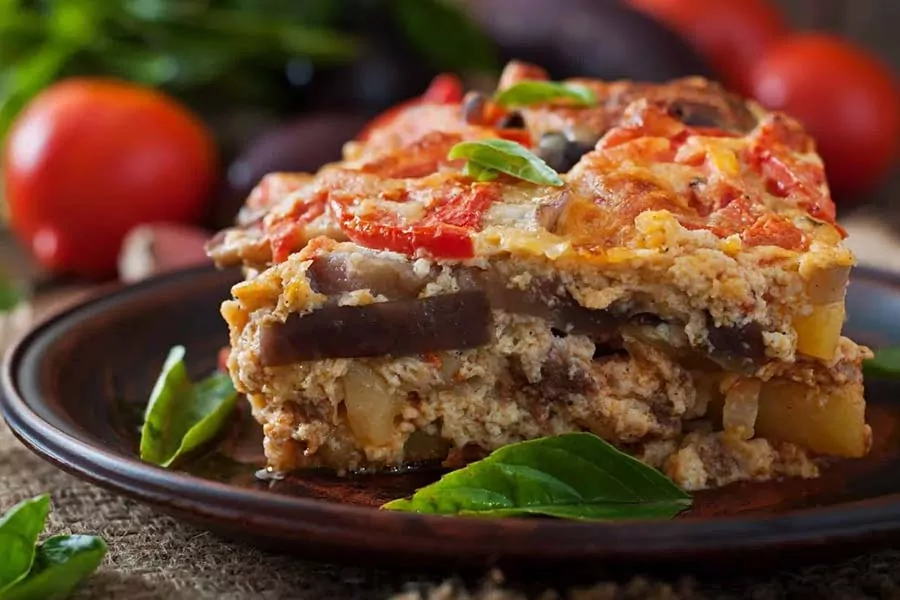 An eggplant- or potato-based dish, often including ground meat, with a top layer made of béchamel. Delicious!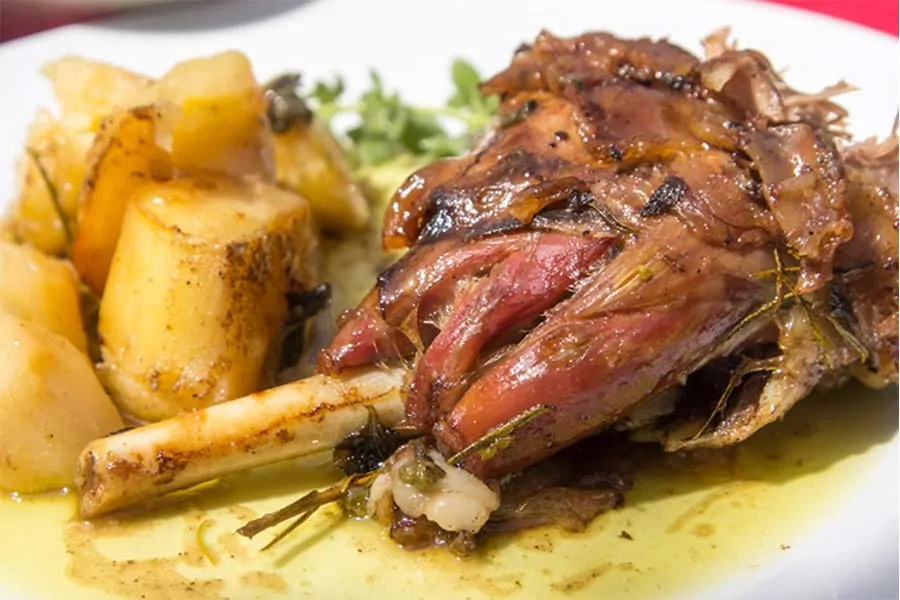 Drizzled with olive oil, seasoned with salt, pepper and some other magical ingre­dients. Not originally a Greek dish but still we love it!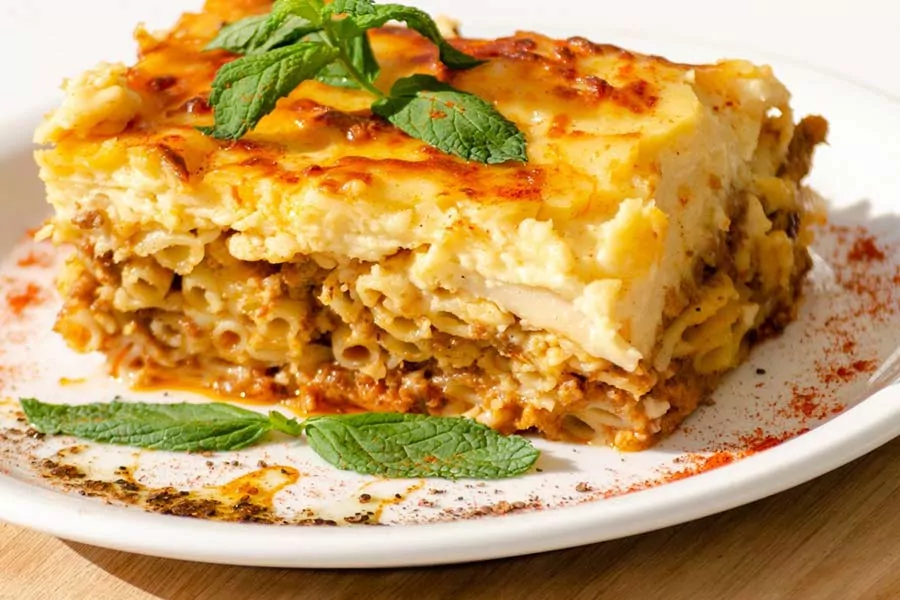 Sometimes spelled pastichio, is a baked pasta dish that contains ground beef and béchamel sauce. Your Greek version of Italian Lasagna.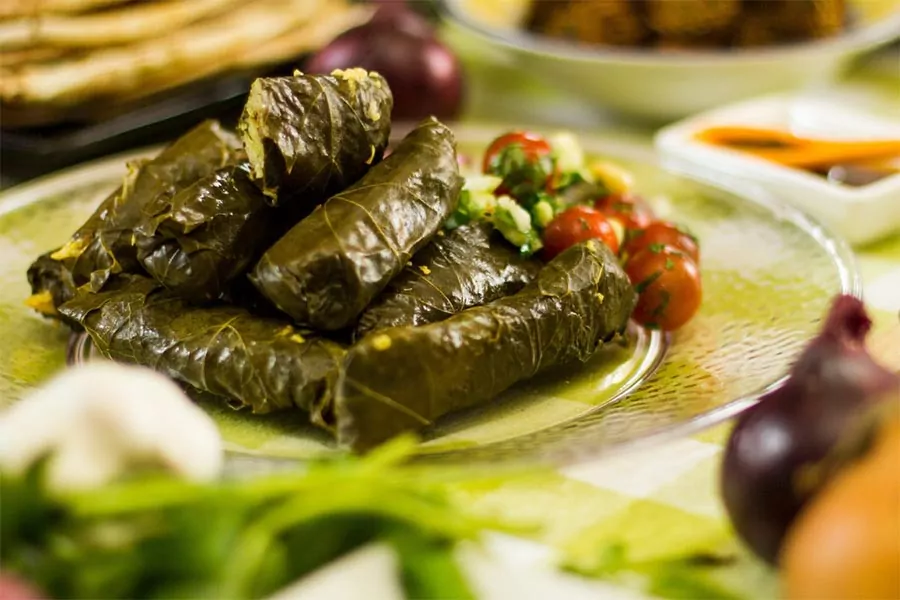 Grape (vine) or cabbage leaves wrapped around a filling made of rice and minced meat. It dates back to ancient Greece.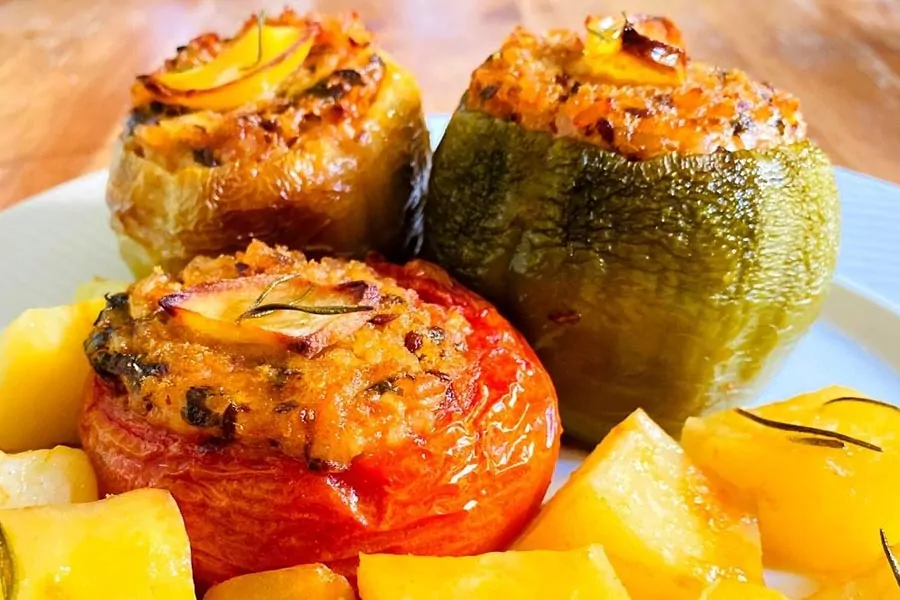 Stuffed vegetables filled with rice and fine herbs (cooked in the oven). Meat fillings options available. Perfect choice for vegetarians.
A large variety of coffees are available (freddo, frappe, cappuccinos and the original Greek coffee). Zip it slowly like Greeks do.
The most popular street food in the country consisted of 3 available meat va­rieties (found in most restaurants). Make your own today!
Traditional brined curd cheese from sheep's milk. Try it on a Greek Salad or better the oven cooked version with honey and sesame.
An anise-flavoured aperitif widely con­sumed. Similar taste to other liquors like sambuca or mastika. You'll learn Greek in 1 week!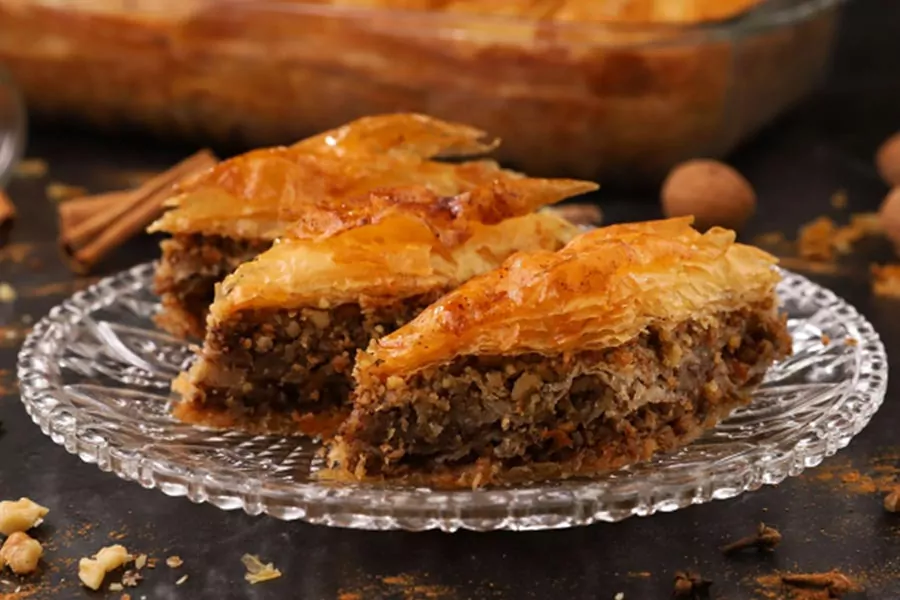 A rich, sweet pas­try made of layers of filo filled with chopped nuts and sweetened and held together with syrup or honey.
MELILOTOS: Address: 19 Kalamiotou (Monastiraki) · Phone: +30 210 322 2458
MAVRO PROVATO: Address: 31 Arrianou (Pagrati) · Phone: +30 210 722 3466
SKOUBRI: Address: 14 Drakou (Koukaki) · Phone: +30 210 921 0994
Kenko Japanese Restaurant: Address: El.Venizelou 22, Nea Smirni, 17121 · Phone: +30 210 935 0728
HARD ROCK CAFÉ (International): Address: 52 Adrianou (Monastiraki) · Tel: +30 210 324 5170
XENIOS ZEUS (Greek): Address: 37 Mnisikleous (Plaka) · Tel: +30 210 324 9514
LA PASTERIA (Italian): Address: 15 Valaoritou (Kolonaki) · Tel: +30 210 363 2032
SPONDI: Address: 5 Pirrónos (Pagrati) · Phone: +30 210 756 4021
FUNKY GOURMET: Address: 13 Paramithias (Kerameikos) · Phone: +30 210 524 2727
VAROULKO: Address: 52 Akti K'dourou (Pireaus) · Phone: +30 210 522 8400
NOEL: Address: 59B Kolokotroni (Monastiraki) · Phone: +30 211 215 9534
FOUAR: Address: 6 Christopoulou (Plaka) · Phone: +30 210 321 1381
A FOR ATHENS (ROOF BAR): Address: 2 Miaouli (Monastiraki) · Phone: +30 210 324 4244
CHECK-IN / CHECK-OUT & BREAKFAST
Usually hotel check-in times start at 14:00. however and if rooms are available before hand, you will be able to check in upon arrival. Hotel check-out times start from 12h00. Breakfast times differ from each hotel but are advised upon your check-in.
Our primary concern is to provide excellence in all of our services. Hellenic Transfers is a key player in the Greek Transfers industry. We go above and beyond to meet our clientele's expectations and our dedicated team of professionals is committed to truly make your days in Greece, an unforgettable experience.
WELCOME TO GREECE... WELCOME TO HELLENIC TRANSFER GUIDE !!!
If you like, please share it